Please note that this is a suggested general structure, but you should follow the guidelines provided by the funding institution.
Preliminary Sections

Table of contents (optional)
Glossary (optional)

Research Background & Justification

Methodology

Management

Ethical considerations (if appropriate)

Supplementary Sections

Appendices (optional)
PRELIMINARY SECTIONS
Exciting Title!
Title and abstract will be written at the end. Begin with a "working title" that will be adapted as you redefine your objectives and impact.
The title needs to:
Waken the interest of reviewers
Be specific to the work to be accomplished (what, where, when)
Balance conciseness and explicitness (long enough to distinguish it from other studies in the field, but not too long to bore the reader).
Bad example

Drug YXZ has an effect of muscular contraction for an hour in snails of Achatina fulcia species.

Good example

Drug XYZ induces muscular contraction in Achatina fulcia snails.

Effects of drug A on schizophrenia patients: a study of a multicenter mixed group.

Psychosocial effects of drug A on schizophrenia patients: a multicenter randomized controlled trial.
Effective Abstract
The abstract is the first part that the reviewers will read (and maybe the only one!)
It is the initial impression of the request. It is an argument; it should convince the reviewers to take the time to read the entire proposal. It is NOT an introduction, NOT a list, NOT an unsolved mystery.
Often < 250 words. Make every word count! (Look for every word: do you need it? Save words by eliminating passive voice).
Content:
What is the problem → Orient the reader with the first sentence
What is the question → Your specific goal
How you will answer that question → Specify the methods briefly
Summarize the most significant results → When stating expected results, be definitive: "the prevalence of dengue in children < 10 years of age in X region is expected to increase from 2001 to 2004"
What is the possible impact → Big conclusions
Tip: It may contain the same information as the last paragraph of the introduction and the first paragraph of the Justification or rationale.
Remember:
Never include information that is not presented elsewhere in the proposal
Do not include a reference citation in abstract
Make it clear! Read it out loud to someone else that is not so familiar with what we are doing and see if they understand
Example
Problem: "in recent years, dengue viruses have spread throughout tropical regions worldwide. There are innovative control measurements such as biological control through deployments of Aedes aegypti with Wolbachia (bacteria that affects, vectorial capacity). In this study, the efficacy of this intervention will be determined.
Question: …What is the reduction in dengue incidence in the communities where Aedes aegypti with Wolbachia were deployed in comparison with communities without such intervention?
How: We plan to conduct a community trial in a city divided into 24 zones, 12 of them with the intervention and the other ones as control.
Impact: Community acceptance of the intervention.
---
RESEARCH BACKGROUND & JUSTIFICATION
The research problem
The problem identification is the starting point. It is the recognition of a challenge, need or gap in knowledge.
Can you match this problem with what the funding body is asking for? If yes... Continue with the problem analysis, where a deeper understanding of the question and the problem is developed.
Identify the causes of the problem and associated factors. The analysis can be based on knowledge, literature review, local or national priorities, or discussion with the team.
Identify the frequency, intensity, and geographical distribution of the problem to show the importance of addressing the problem.
With this, we can construct the problem tree:
What the central problem is?
What is causing the problem?
Which are the consequences or effects of that problem? This will justify why it is important to address the problem.
Example

Central problem

Increasing overweight and obesity.

Causes

Multifactorial problem. Direct and indirect causes: sedentary lifestyle, diet, family history, underlying diseases.

Consequences

Hypertension, diabetes, decreased self-esteem, mortality. With information about them, you can justify why it is important to investigate, to propose a treatment to reduce the consequences.
Problem tree example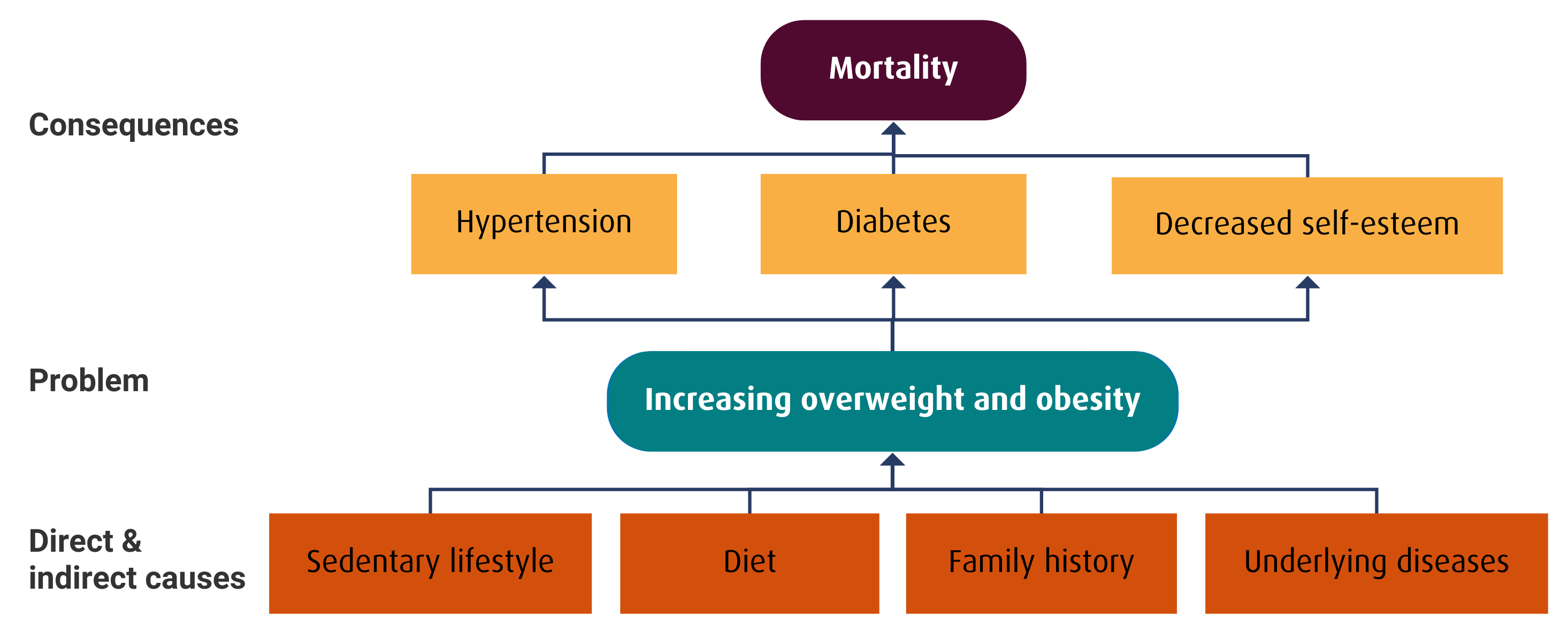 Background: literature review
A good and up-to-date literature review is essential to:
Provide context, justification, and support for your research question
Understand the extent of the problem
Identify the causes and factors that influence the problem
Identify the gap in the current published works
Reading literature in your field allows you to stay on top of your game. If you're in a field you're interested in, this should not be too arduous.
The reading must go from the start to the end of the research process. If not, it can happen for example that by the time you publish there will be already a similar article published!
Type of Literature
Published

We find it in manual searches-by contacting researchers involved in the field of interest- or databases searches -high impact journals, Pubmed, Google academic/ Google scholar, ScienceDirect, Scopus, Scielo and LILACs (in Latin America), etc. Access depends on the licenses held by the journals that publish them.

The literature that reviewers have the most confidence in.

Grey

Information that is produced outside of traditional publishing and distribution channels. It is produced on all levels of government, academia, business, and industry in electronic and print formats and it is not controlled by commercial publishing. It involves different national or international organisations such as the WHO, the Ministries, and the World Bank.
Examples: technical or statistical reports, conference proceedings, theses, and newsletters.

In general, they do not have much credibility because they do not go through peer and independent reviewers or reviewers from other institutions. They are very useful to get an idea of the local context, and to frame a problem well.

Unpublished

Expert Interviews, Academic Meetings participation, Congress participation, personal conversations.
Steps for the bibliographic search:
Define the search question properly: It may not be the research question, it may, for example, be a search for each cause related to the problem
What are the keywords for that research question? Identify the main term.
Define synonyms for the keywords.
Use a search strategy: you can combine the keywords using AND (for keywords), OR (for synonyms), or NOT (e.g. if you want to exclude something, for example, you don't want to include clinical trials/case series articles).
Define the language of the search (most of the literature is published in English). In Spanish, for example, the search will be limited, or you will only find abstracts.
Save the strategy to re-apply it in the future. Record: date of search, data sources selected, search terms used, limits applied (date, language, age range), search results, numbers of articles you read, how many you evaluated, how many you have included
Use Reference Managers. For example, Zotero, JabRef, Mendeley, and EndNote to store the information, organise your bibliographic references, and to be able to share them. They help to make the automatic insertion of citations and the generation of bibliographies in our work documents in different styles easily.
Example of literature search

Question or topic: Neonatal sepsis in intensive care units.

Keywords: "Neonatal Sepsis" AND "Intensive Care Unit" OR "ICU"

Question or topic: Increasing overweight and obesity.

Cause-based search: data to better describe and quantify the problem
Keywords: Overweight OR Obesity AND Sedentary
Overweight OR Obesity AND Diet
Overweight OR Obesity AND "underlying diseases"
Overweight OR Obesity AND "Family history"

Consequence-based search: information for writing the justification.

Keywords: Overweight OR Obesity AND Hypertension
Overweight OR Obesity AND diabetes
Overweight OR Obesity AND self-esteem
Overweight OR Obesity AND mortality
Rationale and Impact:
This section addresses why the proposed work is important in the field and answers the question: "so what?".
Rationale/Justification?

Impact

Present. Defined space and time.
Respond to a current scientific and social need.
Must answer these questions:
Why this research project is important and why it should be done?
Why will your contribution make a difference today?
What statistics/empirical evidence (from the literature review) support the case?
Why is it different from what has been done so far (why would investing be positive)?
How does it contribute to solving the problem?

Future. The imprint left by something we do.
Show that the action can go beyond the initial scientific and social context.
Include the favorable and possible negative effects on the environment, the social and working environment, permits and licenses (e.g. generating expectations in a society).
They can be short term (1/2 year), medium term (5 years) or long term.
Make sure to answer the following questions:
What do I expect from the results?
What am I going to contribute to the scientific, technical, social, ecological advance of the country? Be concrete and realistic!
How will the proposal be followed up?
Which is the innovation and the international, regional, national, local opportunity (does it have a regional, national, or international impact)?
List the knowledge and abilities that will be acquired, technology developed/ incorporated, human resources formation, diffusion, and publications (promise to publish), transference (explained in methods).
Example
Biological Control Strategies against Dengue
Justification: Increasing dengue trends in the Americas, a lot of resources invested in public health programs without impact. Severe dengue implies complications, deaths, and increasing health services care costs. New evidence is available about innovative biological control interventions in Asia.
Impact: Innovative intervention environment-friendly, sustainable, and community acceptance according to prior studies
Objective(s) or research question or hypothesis
Then you must set out the objectives:
The overall objective of a study states what the researchers hope to achieve with the study in general terms.
They should be closely related to the problem statement. When evaluating the project, objectives are contrasted with results. If the objectives are not clearly stated, the evaluation cannot be done.
Why should we formulate research objectives?
It will help you to:
Focus on the study (by narrowing it down to its essential points).
Avoid collecting data that is not strictly necessary to understand and solve the problem you have identified.
Organise the study into clearly defined parts or phases.
How should you set out your objectives?
- Ensure that they cover the different aspects of the problem and the contributing factors in a coherent and logically sequenced way.
- Make sure that they are clearly stated in operational terms, and specify exactly what you are going to do, where, and for what purpose.
- Consider local conditions realistically.
- Make sure to use transitive verbs that are specific enough to evaluate. Examples of transitive verbs: determine, compare, verify, calculate, describe, and establish. Avoid using intransitive verbs that do not express an evaluable action, such as: appreciate, understand, or study.
Specific objectives: quantifiable results at a specific time for the project. Concrete measures to respond to the big question.
List your specific objectives as a chronological sequence or logical flow: objective 1/ objective 2/ objective 3. Avoid listing activities that will be included in the methods part.
Keep in mind that not all research projects have hypotheses. Research objectives can be descriptive, methodological (evaluation of a lab technique), differential, or relational (comparing factors that influence x).
Example
Objective: To assess the factors determining low adherence to the therapeutic regimen in patients who have received counselling and close monitoring in city X between July 2018 and July 2019.
Specific objectives: To determine:
The number and proportion of px with low adherence.
The association between educational level and treatment adherence.
The association between serious adverse effects and adherence to treatment.
To learn more about developing your research question you can access this free training:
| | |
| --- | --- |
| TERM | DEFINITION |
| Research aim | A statement indicating the general aim or purpose of a research project. Usually, a research project will have only one broad aim. |
| Research objectives | Specific statements indicating the key issues to be focused on in a research project. Usually, a research project will have several specific objectives. |
| Research questions | An alternative to research objectives, where the key issues to be focused on in a research project is stated in the form of questions. |
| Research hypotheses | A prediction of a relationship between two or more variables, usually predicting the effect of an independent variable on a dependent variable. The independent variable is the variable assumed to have a casual influence on the outcome of interest, which is the dependent variable. |
Feasible scope / Limitations
Explain your limitations – weaknesses and what can be done if something happens. It is better if you mention your limits before, so they know you are being realistic.
You can list them, for example, sequential activities: "if it breaks, then…", "if social instability in the region, then…"), and "if periodic costs and inflation rate soars".
Example
The deployment of Aedes aegypti with bacteria Wolbachia against Dengue transmission in high-risk areas implies an increased mosquito population during deployments producing complaints in communities, it requires additional financial resources to develop informative and educational campaigns and measurement of population acceptance.
---
METHODOLOGY
Methodology answers how you are going to carry out the process and is the heart of the research proposal.
Here the reviewer will see your competence as an investigator.
It must show that the overall research design and methods of analysis will correctly address the research problem. It should be unmistakably tied to the specific aims of your study.
Structure:
Tip!
You can start from the general (subtitle or the first sentence in the paragraph, i.e. "implement an immune-informatics based strategy") to the specific details (rest of the paragraph) i.e. this method consists of xxx developed by Drs (ref). You can reference a previous paper related to the methods you will use but be specific!
According to the state of knowledge of the problem and the type of questions, the research design (strategy) is defined.
Find in this chart the different study methods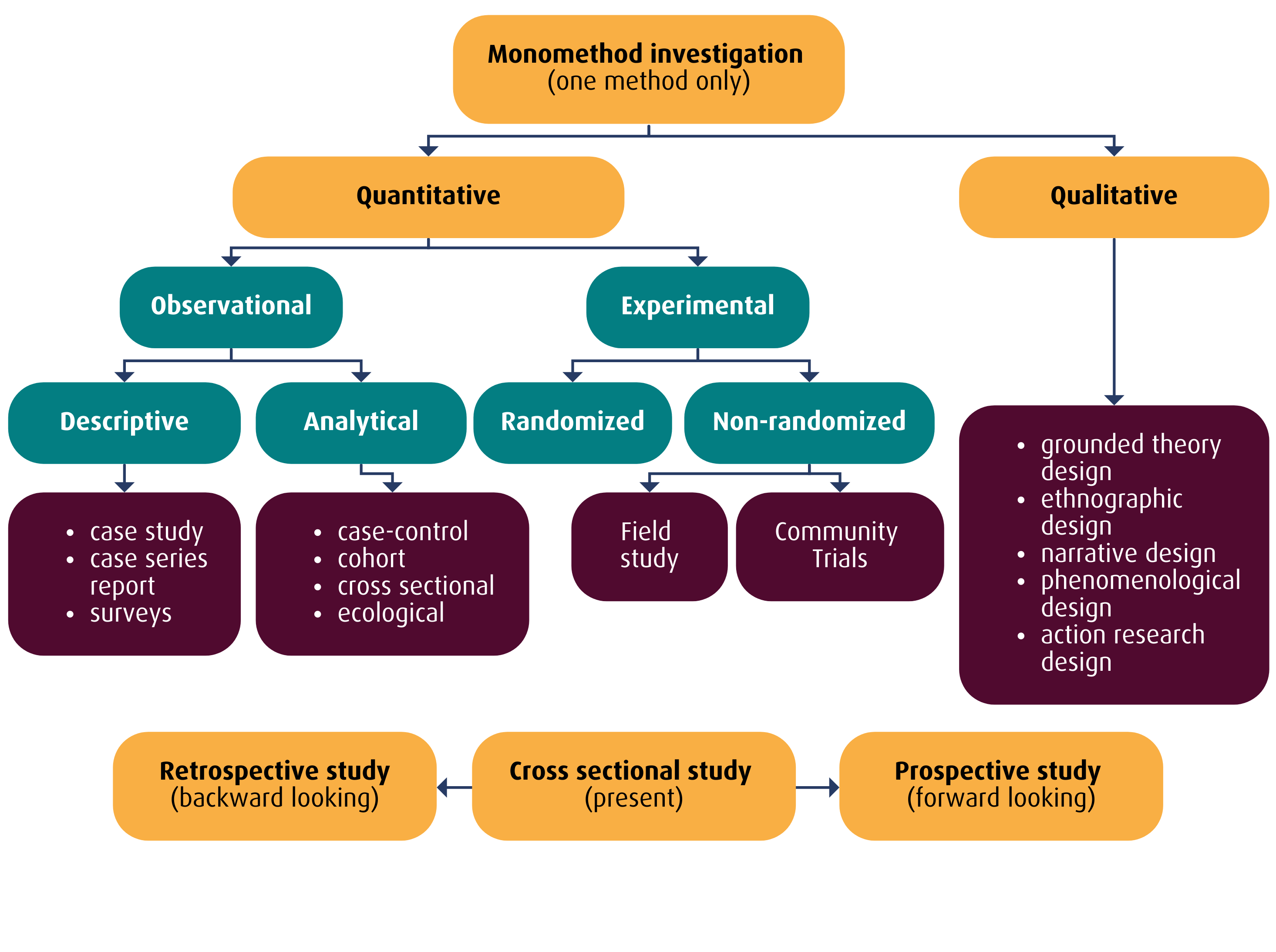 Quantitative study: Precise and delimited. Focused on variables that are as exact and concrete as possible. Targeted. Based on a review of the literature. They are oriented towards testing theories, hypotheses, and/or explanations, as well as evaluating the effects of some variables on others (correlational and explanatory).
Observational study: researchers observe the effect of a risk factor, diagnostic test, treatment, or other intervention without trying to change who is or isn't exposed to it.
Descriptive/exploratory study: Answer to "What happens?". Allows describing the occurrence of health events in a population in terms of person, time, and place. They do not allow associations to be established; their main advantage is to generate hypotheses for future studies. They require a relationship (e.g. there is more serious falciparum malaria in X compared to X). In their analysis, they calculate ratios a/b, proportions a/a+b, and rates: events/person time of exposure.
Case study: an intensive, systematic investigation about a person, a group of people, or a unit, which is aimed to generalize over several units.
Case series report: a collection of patients with common characteristics used to describe some clinical, pathophysiological, or operational aspects of a disease, treatment, or diagnostic procedures
Survey: the collection of information from a sample of individuals through their responses to questions
Analytical study/ comparative: Answers the question "Why does it happen?" They allow building comparison scenarios, who have/who has not. They intent to prove the hypothesis.
Case-control study: a group with an existing condition ("cases") and a similar group without it ("controls") will be identified and then compared with respect to exposure or exposures.
Cohort study: follow-up of populations with some characteristics in common. They are generally longitudinal over time and prospective but can be followed up retrospectively. To compare what happens to members of the cohort that have been exposed to a particular variable to what happens to the other members who have not been exposed.
Cross-sectional/ Transversal study: analyzes data of variables collected at one given point in time across a sample population or a pre-defined subset.
Ecological study: The term ecological derives from the frequent use of geographical areas as a basis for defining units of analysis, such as populations or groups of people rather than individuals. In their analysis, correlation coefficients are calculated. They generate hypotheses, and establish relationships but do not necessarily help to determine causes.
Experimental study: researchers introduce an intervention and study the effects.
Randomized study: A study design that randomly assigns participants into an experimental group or a control group. As the study is conducted, the only expected difference between the control and experimental groups in a randomized controlled trial (RCT) is the outcome variable being studied.
Nonrandomized study: trials where the investigator controls allocation without randomization.
Field study: A study conducted in a real setting with real practitioners with the aim to understand different aspects of the practice or phenomena that occur.
Community Trial An Experiment in which the unit of allocation to receive a preventive, therapeutic, or social intervention is an entire community or part of an organization ref: Porta (2014) Dictionary of Epidemiology.
Qualitative study: They are based on a literature review, but also on experience, context, and intuition. They are oriented towards learning from the experiences and points of view of individuals, assessing processes, and generating theories based on the participants' perspectives.
Grounded theory: inductive, comparative methodology that provides systematic guidelines for gathering, synthesizing, analyzing, and conceptualizing qualitative data for the purpose of theory construction.
Ethnographic study: intended to describe, understand and explain a social system. For example a community, ethnic group, city, marginalized group, or organizational culture.
Narrative study: when detailed stories help to understand the problem.
A phenomenological study: seeking to understand people's experiences of a phenomenon or multiple perspectives on it.
Research/action study: when a community problem needs to be solved and change is sought, and the community participates during the research process
You can also have multi-method research, which is a combination of single-approach designs, e.g., first an experiment and then a separate survey; or a mixed method which includes concurrent designs, integrative designs, and sequential designs.
Example
NOT CLEAR: "the method already described will be used (9)"
BETTER: "inmuno-informatics based strategy to design of drugs (described by, ref) will be used to find possible cures for Leishmaniasis"
From whom will you collect the information?
People, crops, experiments, secondary analysis, vital statistics...
Population: the entire group that you want to draw conclusions about.
Sample: the specific group that you will collect data from. The size of the sample is always less than the total size of the population.
Representative sample: contains all important characteristics of the study population. E.g. if we want to evaluate the quality of care in a hospital and we only ask the patients who are attending the hospital, it is not representative. You would have to ask those who did not return to the hospital anymore as well.
How do you know if you need to take a sample or the whole population?
This depends on these criteria:
Budget: one of the biggest constraints is how many resources we have available in money/time and staff.
What is the study design? Is it going to be quantitative/qualitative or mixed?
How large is the population I will have access to? If it is a population of 300 people, that population is not that large, I would not think of taking a sample. If it is 2 million people, it is necessary to take a sample.
What will be the scope of my objectives? Is it to explore, predict, describe, generalize, or compare?
Steps
Define your eligible population (who we want to do the study on) according to the inclusion and exclusion criteria. Don't forget to mention those criteria!
Inclusion: what are the characteristics that a person must have to enter the study?
Exclusion: after meeting the inclusion criteria, what are the reasons for excluding a participant?
According to the size of the population, you can define the sample size and sampling. If you will choose 200 samples over 4000, how will you select them? We need the sample to resemble the population, so the sample must capture the variability of the population.
Possible sampling biases: To study only the volunteers or the enrolled patients. Accessibility bias.
Remember: A small well-selected (representative) sample is better than a large biased one
Probabilistic or non-probabilistic sample?
Probability sampling is a method that involves randomly selecting a sample or a part of the population that you want to research.
Non-probability sampling uses non-random criteria like the availability, geographical proximity, or expert knowledge of the individuals you want to research in order to answer a research question.
What is the sample intended to measure?
Review objectives and be clear if they are descriptive or comparative.
Ex 1: to evaluate the adult emergency department of a health institution: descriptive.
Ex 2: to analyse the competencies of primary care nurses in neonatal care: descriptive.
Ex 3: identify the factors associated with the implementation and development of a telerehabilitation service: comparative.
Is it just a population or is there a comparison?
Define parameters to be estimated
Define the comparison groups
Example
Descriptive study
Aim: To estimate the prevalence of obesity in children under 15 years of age in a small city.
Population: Children under 15 years of age, in total 500,000.
Sample: Expected prevalence according to other studies 20%, estimation error (maximum 10% of the estimate) 1% or 2%, confidence 95%.
For the estimation, you can go to www.openepi.com, in the sample size menu choose proportion.
The value obtained for a 1% error is 6072 and the 2% error is 1532.
Analytical study
Aim: to explore the association between a sedentary lifestyle and obesity.
Sample: it is necessary to be clear about the design of the study and based on that to have for example for sedentary and non-sedentary people the prevalence of obesity.
Prevalence in sedentary people: 28%
Prevalence in non-sedentary people: 16%
Sample size: 395
With closer prevalences
Prevalence in sedentary people: 18% Prevalence in sedentary people: 18% Sample size: 395
Prevalence in non-sedentary people: 16% Sample size: 12651
Sample size: 12651
Data Collection
Define the data to be collected according to the research question and objectives. Avoid taking unnecessary data, take only data that is useful, feasible, and ethical.
Identify the data source:

Available information: low cost.
Observation: selection, monitoring, and systematic recording of behaviour and characteristics of living beings, objects, or phenomena.
Interviews: individual or group interviews.
Written questionnaires: mailed or directly applied.
Focus group discussions: to explore concepts, insights, and ideas of the group in more depth.

Write a detailed account of the methodology you will adopt for the collection of data.
Biases during data collection:
Bias at the collection stage means that the data you have gathered is not representative of the group or activity you want to say something about.
Biases should honestly be reported. You cannot always control for biases; you should say for example that you have standardised to X extent but that Y biases could not be controlled for Z reason.
Variables are observable or measurable characteristics that are expected to vary from one individual to another (e.g. if we are doing a study on pregnancy, we will not ask patients if they are female, because it is a constant).
Examples
If data is to be collected on young people, having an adult interviewer who does not understand young people's language well could lead to bias.
If the survey is self-completed and technical language is used, it is possible that people will answer without understanding the questions, the language of the survey should be in accordance with the academic level of the population.
What will you do with the data collected?
Make a data processing and analysis plan.
It should include:
Classification of the data
Checking for quality control
Processing
Analysis: consider the validity (truth value) of the results. Internal and external validity are concepts that reflect whether the results of a study are trustworthy and meaningful. While internal validity relates to how well a study is conducted (its structure), external validity relates to how applicable the findings are to the real world (Citation: https://www.verywellmind.com/internal-and-external-validity-4584479 p/). Precision is also needed and achieved by randomisation, replication, and the control of experimental error.
Name of the statistician and the suitable software that will be used.
Example
The following variables could be used to answer the risk factors for obesity
Obesity: BMI > 30 kg/mts2
Sex at birth: Male, female
Age: Age in completed years
Physical activity: Does or does not do
Alcohol consumption: Consume, don't consume
Analysis
Absolute and relative frequencies will be used to describe the variables, age will be summarised with the mean and standard deviation or median, and the 25th and 75th percentiles depending on normality.
To establish an association, the chi-square test will be used for qualitative variables, and with age, the Student's t-test or Wilcoxon rank test will be used depending on normality. To estimate PR prevalence ratios with confidence intervals, a binomial logit regression will be used.
How to determine if the data collection methods are correct before conducting the study?
Doing a:
Pre-test: small-scale testing of a particular research component, or a
Pilot test: a preliminary study of the entire research procedure, but only with a small sample.
If you have done so, including the results in your proposal makes it much stronger!
---
MANAGEMENT
Ethical Considerations
Research ethics involves the application of fundamental ethical principles to research activities which include the design and implementation of research, respect towards society and others, the use of resources and research outputs, scientific misconduct, and the regulation of research (Citation: https://www.stir.ac.uk/research/research-ethics-and-integrity/understanding-ethics/)
The proposal must describe the measures that will be undertaken to ensure that the proposed research is carried out in accordance with the declaration of Helsinki. (Citation: https://cioms.ch/wp-content/uploads/2017/12/CIOMS-EthicalGuideline_SP_INTERIOR-FINAL.pdf )
Ethical considerations must answer the following questions:
How will the informed consent process be administered?
Is the use of vulnerable individuals as research participants justified?
How will the community in which the study is conducted benefit from any potential outcome of the research?
Are the interventions justified, in terms of risk/benefit ratio? Psychological and social risks must also be considered.
Have measures been taken to ensure confidentiality?
Guidance for the ethical review of a proposal
(Citation: Emanuel, Wendler, and Grady, "What Makes Clinical Research Ethical" JAMA 2000; 283:2701-11):
The social value of the proposal
Scientific validity
Fair selection of subjects
Favourable risk-benefit balance
Independent review
Informed consent
Respect for participants
Example
Ethical aspects: The study protocol had the approval of the Institutional Review Board at the School of Public Health, University of Antioquia. It also complied with the provisions in Resolution 008430 1993 from the Colombian Ministry of Health. The parents or caregivers, and the children, were informed about the purpose of this study, the procedures to be carried out, and the implications of the results. Forms of informed consent and assent were provided to them to read and sign as well as copies of the forms to keep after the signatures. The children who were found to be carrying other intestinal parasites, which require medical treatment were referred to their health insurers.
Citation: González Quiroz DJ, Agudelo Lopez SdP, Arango CM, Acosta JEO, Bello Parias LD, Alzate LU, et al. (2020) Prevalence of soil-transmitted helminths in school-aged children, Colombia, 2012-2013. PLoS Negl Trop Dis 14(7): e0007613. https://doi.org/10.1371/journal.pntd.0007613
Potential risks
Personal misbehaviour
If a junior scientist makes a poor decision to discard outlying samples from the analysis. Misbehaviour.
If a senior professor sends samples to a collaborator to test for influenza and the collaborator tested the samples for antibodies to HIV which was not agreed upon. Misbehaviour.
These would be misbehavior but not a fraud.
Scientific Fraud
A senior professor purposefully uses the same data in an engineering publication that was published in a chemistry publication. Fraud.
If a young scientist specifically says the samples were negative when the positive control also was negative. Fraud.
Budget
Don't leave your budget to the last minute!
You need to be as accurate as possible with true expected research costs and, some agencies require multiple signatures for responsible parties to sign off on the budget and their specific contributions to the project.
A well-thought-out financial plan helps to create confidence in the proposal and helps reviewers to determine how the project will be conducted. Give a detailed breakdown of costs.
Advice
Separate your budget table by categories and then items
Justifying your costs by methods can be a useful approach
Identify additional funding sources and outline their contributions
Know the restrictions of the funding agency per item
Understand the reallocation margin between items -what is ok to modify later and what is not? In the end, you can add clarifications like: currently, this will cost x but maybe we can find it for less, and will need to switch this money from this item to the other.
If multiple partners (partners are important and well-seen), include columns by each partner.
Include details.
Budget categories (will be according to the agency's restrictions):
Personnel/Staff
Capital equipment (vehicles, computers -explain very carefully why you need one, don't you have one in the institution already? building, etc.-)
Supplies (expendable /consumable, consider price variation – add a 10% just in case)
Travel (they should be very well justified) and allowances: why this number of trips? Who will be traveling and why these in particular?
Communications (mail, national/international legislation)
Printing and publishing (including journal publishing costs)
Indirect costs (usually between 8-15%), administration support, miscellaneous, etc. Explain as narrative.
Third-party services (consultants, equipment maintenance, etc.)
Remember
The funds will not be sent to a private account but to an institution.
Be careful to review totals and subtotals! You can use Excel or some other table/calculator tool.
If you don't have an appropriate budget, then it will be evident that you would not be able to handle the research. Reviewers will consider whether the budget and the requested period of support are fully justified and reasonable in relation to the proposed research.
Chronogram/Timeline
A timeline is a graphical representation of the chronological sequence of events, integrating all project activities.
It must be coherent, to demonstrate that all activities are properly linked to the successful completion of the project.
Steps to creating a project timeline
Generate a project scope statement (as in the proposal/protocol)
Create a work breakdown structure. It is a hierarchical tree structure that outlines your project and breaks it down into smaller, more manageable portions.
Break each work package into tasks
Determine project dependencies
Determine the total time needed for each task
Identify resource availability
Identify important milestones
Consider analysis, reporting, and monitoring.
Build your project management timeline, ordering and numbering the activities by stage and by month.
Tips
Recommended to have it on one page, a picture.
Take this opportunity to show that you're familiar with the methods (if you're familiar with them, you know how long it will take).
Example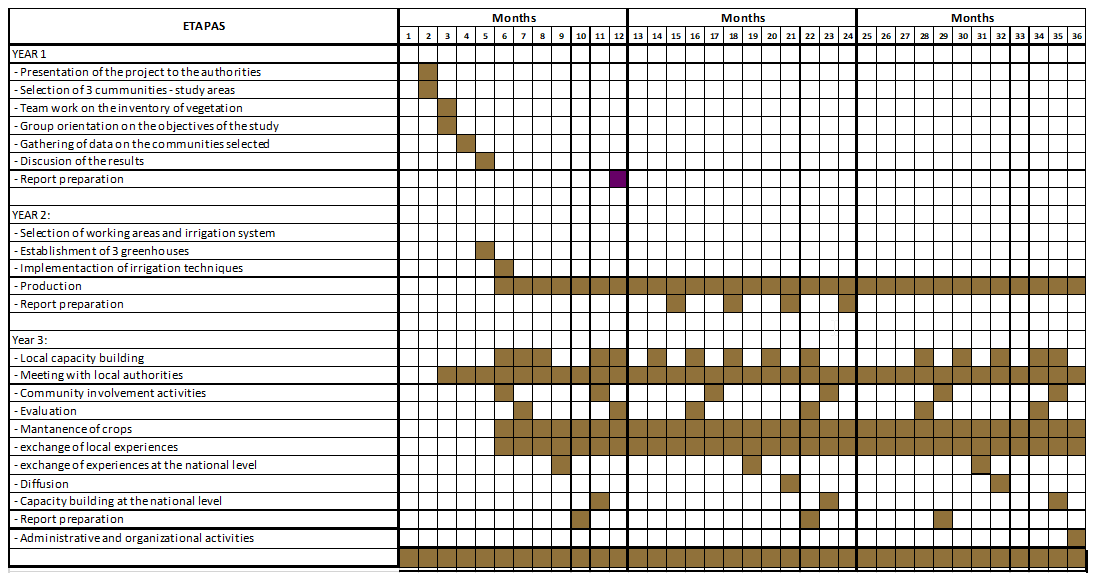 ---
Supplementary Sections
References
A list of references is to be included. Only relevant, no more than 30 in general.
This section typically is not counted in the page limitation of the research description.
The references must particularly apply to the text, they must support it.
The style of the bibliographical item itself depends on the disciplinary field and guidelines.
Appendices
Occasionally used for cover letters, letters of endorsement (ask for letters with time in advance!), or collaboration, and reprints of relevant articles if they are not available electronically.
Other uses may be data tables, surveys, questionnaires, data collection instruments, clinical protocols, and informed consent documents as allowed by the sponsor.
Sometimes the financial institution requires ethical approval or a letter that shows that you have submitted to ethical institutions.
You can include a Biographical Sketch/CV
It is a one to three-paragraphs description of your professional identity that shows you are competent.
It includes the research team's education, professional positions, publications, work record, and the most valuable publications.
It is an opportunity to highlight your expertise and experience related to the proposed work, mention the professional community to which you belong, and briefly describe the steps you have taken to join that community.
It seems small but it can impact your proposal!